Interview by Carol Wright | Photographs Courtesy of Savannah Nicole Ruiz
We got to chat with actress Savannah Nicole Ruiz about her character Emilia in the HBO Max series Gordita Chronicles and her advice for aspiring actors.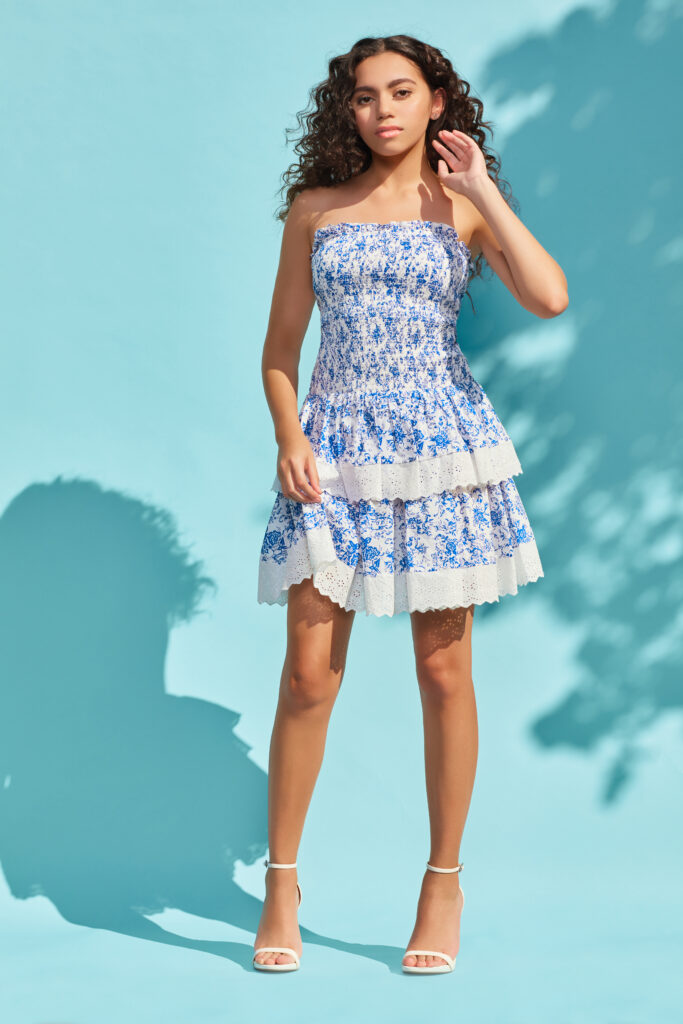 Has performing been a passion of yours from a young age?
When I was younger, I was passionate about anything that allowed me to express myself. Before I knew how much I loved performing, I used art and fashion as ways to display my creativity. Then, in elementary school, I began taking acting classes, and it became my new favorite hobby. It was another creative outlet for me. The ability to transform into another character was just so much fun. As I get older, I've started to appreciate the way acting allows me to tell someone else's story and experience. It's exhilarating to perform, but half the fun for me is developing a character's motivations, getting into a different headspace, and seeing the world through a different lens.
Tell our readers about Gordita Chronicles and what initially drew you to the project?
Gordita Chronicles is about a Dominican family that immigrates to 1980s Miami in hopes of finding the American dream. Throughout the season, you get to see each member of the family trying to adjust to this world that's completely unfamiliar to them. This show breaks a lot of stereotypes, shows the culture shock that accompanies being an immigrant, and it does it all through a hilarious, lighthearted, and inspiring view. When I first got the email requesting I audition for the show, I was immediately drawn to how funny and relatable the script was. It was like reading an interaction between my family and me.
You play Emilia in the show. What did you do to get into your character's headspace?
Getting into Emilia's headspace was a fun process. I related to a lot of what Emilia felt, and that allowed me to pull specific emotions from my real life. To me, it's very important to understand why a character says and does certain things, even if you don't necessarily agree with them. The family dynamic on the show is so similar to my own that portraying Emilia was like getting to play a slightly different version of myself.
What did you and your co-star Olivia Goncalves do off-set to create an authentic sibling relationship that would translate on screen?
Olivia and I had a connection from the beginning. The first day we met, we went out for frozen yogurt, and the rest is history! She's like my little sister and best friend all in one. It's hard to fake that kind of chemistry, but when the real-life bond is genuine, it translates beautifully on screen. We could go from bickering as Cucu and Emilia during a scene to immediately laughing when the cameras were cut.
Throughout the series, Emilia is anxious about her social status. Do you think she could learn a lot from Cucu about being herself no matter the situation?
I absolutely think that Emilia could learn from Cucu. Both characters jump into their new world with both feet, but while Cucu remains unapologetic about who she is, Emilia conforms to what she believes other people want her to be. I think Emilia's feelings are extremely relatable. It's easy to seek validation from your peers, and I appreciate the little journey of self-discovery she goes through over the course of the season.
In episode nine, there's a line that says, "despite the Dominican blood coursing through her veins, she carried a deep, dark secret. My sister couldn't dance." Was it fun to explore latinx culture and stereotypes through this episode?
Episode 9 was so much fun to film! Being so immersed in Latinx culture throughout this episode was awesome. During the scenes that took place at the dance club, we were surrounded by so many professional salsa dancers, and they were incredible! Whenever the camera crew was filming insert shots of just the dancers, I would be off to the side with my jaw on the floor- they were amazing.
Gordita Chronicles is directed by Eva Longoria, and Zoe Saldana is one of the show's producers. Was it inspiring to be a part of a project with such powerhouse Latinx talent?
It was so inspiring! When I initially learned I got the part; I was doubtful of myself- I constantly wondered how I got the chance to be working on a project with such big names. But the minute we got started filming, all my fears went away. It was such a fun and collaborative environment having Eva Longoria as a director. She allowed us the freedom to give our own input and play around with our characters. To have such inspiring and hardworking Latinas working behind the scenes on this show was an incredible experience for me.
What advice do you have for aspiring actors?
Don't give up, no matter how cliché it might sound; if this is something you are passionate about, don't let anyone (including yourself) stop you. There are always a million reasons not to do something. Don't let negative opinions get in your way!