Interview by Carol Wright | Photos Courtesy of Sprayground
We got to chat with Sandflower about co-directing a short film for Sprayground, pursuing a creative career, and her favorite piece in Sprayground's Star Wars collection.
Have you always hoped to pursue a creative career?
Absolutely! I have to be creative, it's literally in my DNA, both of my parents are artists and my mom named me Sandflower so I think she set me up to be artistic in a cool way. Music, visual art, theater, dance, all of these disciplines are what I love. I went to undergrad at Wesleyan University in Connecticut and studied Music and have an MFA in Acting so I can definitely say creativity even inspires me intellectually. There's a risk you take by being creative – even though creativity and imagination are what push everything forward for humanity – when you choose a non-traditional career path people can't always understand what your multifaceted goals are. It's imperative to truly trust yourself and your dreams and walk in your truth.
Tell our readers a bit about the short film you co-directed for Sprayground. How did the opportunity come about?
Working with Sprayground has been a grand adventure. Because DBD the founder and creator of the brand cultivates innovation. When I presented him with the idea to do a Star Wars x Sprayground film he was so amped and excited that the project went full steam. The short film is about an artist living in New York trying to manifest her dreams while dealing with real-life roadblocks. We combined the allegories found in Star Wars with the ethos and style of Sprayground.
Conceiving, writing, co-directing with Alyse Kane Riley, acting, and writing music for the film was a fairly large undertaking and I was fortunate to be able to seek outside advice from a Director and multidisciplinary artist I had worked with in the past by the name of Nickson Fong. He is an Academy-award winner who has worked on The Matrix Reloaded, Shrek, and Bashira and advised me on how to assemble a great team, as this was my first time directing a short film.
Outside of the Star Wars films where did you look for inspiration when it came to the short film?
I watched movies like Daughters of The Dust, Beyond the Lights, and Euphoria. I looked to films with female protagonists that showed their tenacity and audacious vulnerability. I reread Joseph Campbell's "The Power of Myth" and I also looked within because part of this story was inspired by real-life experiences.
You played Auntie Avana in the film. Were you hoping to portray her as a wise Jedi-esque character?
I 100% was! I'm so happy that you picked up on that! I love the concept of the Jedi and I realized my grandmother, my mother, and my aunts have been magically connected to the essence of the universe and I was hoping to channel that loving energy that's gentle yet steadfast. I think the Jedi walk among us and in us every day and I was aiming to show how "the force" does exist in different forms in the world we live in.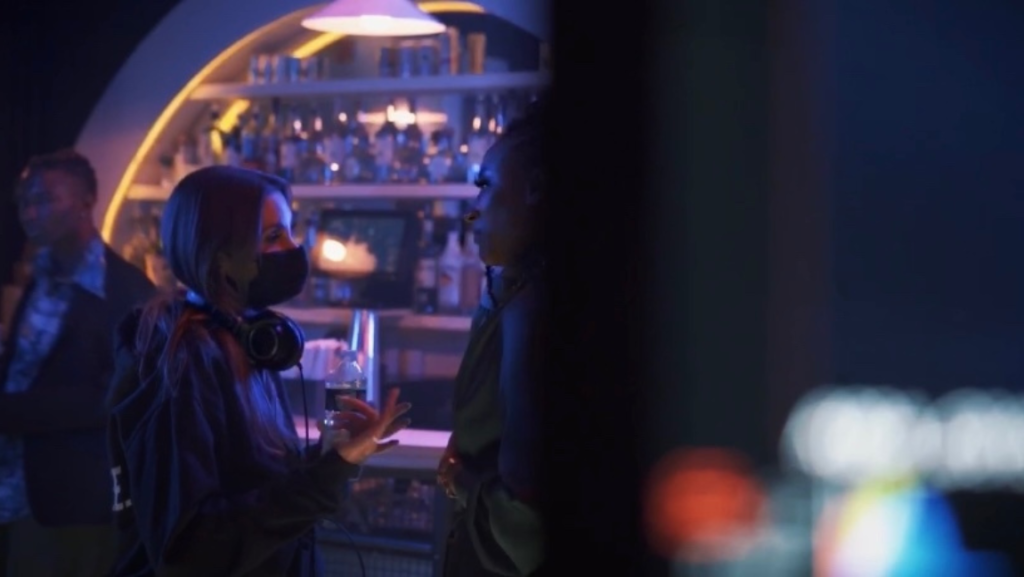 Pieces from the Star Wars collaboration can be seen throughout the film. Do you have a favorite item from the collection?
Yes, I do! My favorite items are actually the Storm Trooper hoodie and joggers and red Darth Vader hoodie. I guess I'm a little bit drawn to the dark side!
What advice do you have for aspiring creatives?
The advice I have is to really tap into The Who, What, Where, and Why of your own inner artist. Why do you want to be creative? What is your purpose? Where do you want your art and creativity to live? Who might benefit from what you have in your imagination?
Ultimately, you just have to make great art (which is something the film composer and Producer of the song in the film, David Sisko, mentions quite often in our sessions). Art, like The Force itself, is an energy field created by all living things. It surrounds us and penetrates us and it binds the galaxy together.