Words by Carol Wright | Photographer: Brian Hamilton
We got to chat with actor Eric Hicks about his film Love in Harmony Valley and what viewers can expect from the film.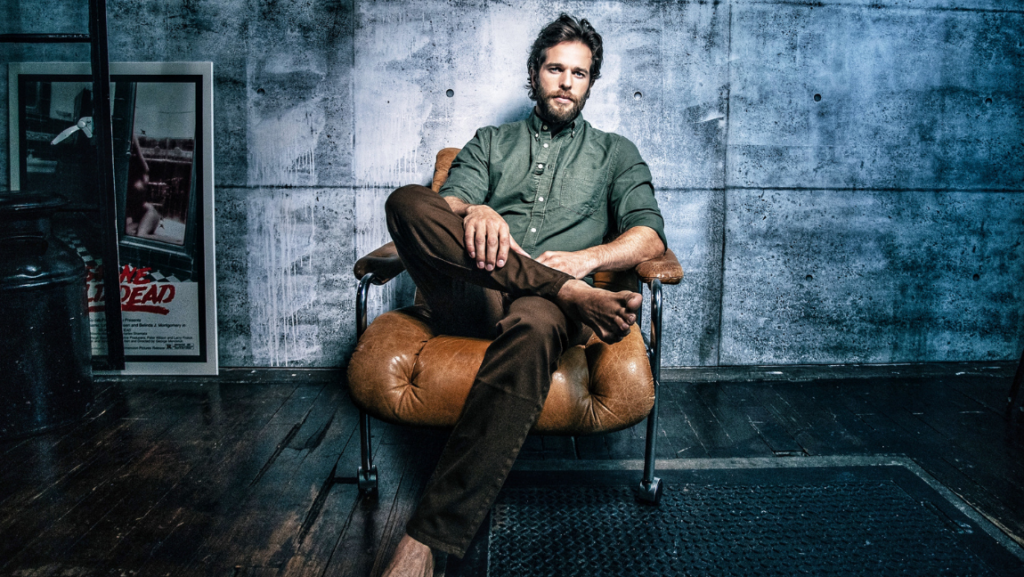 What inspired you to start acting?
Growing up as a kid, there was always a certain magic to watching films. And in the town I grew up in, they would make a film a year kind of thing and I remember always riding my bike around the set just so curious to know how movies were made. Well one year they made a film in our house and I became transfixed by it all. My parents bought me a camcorder and my friends and I would just make stupid videos but we were obsessed with it. Now as I got older, if I'm going to be fully transparent and honest with myself here, I realized that there were a lot of girls that were into acting and so for me, that was a pretty big pull hahaha. My girlfriend at the time had a huge crush on Chad Michael Murray and I was so jealous. In my mind I said one day, I will be that guy who makes boyfriends jealous. Not quite there yet. But in all seriousness though, I just love a good challenge and acting to me was the hardest thing I could undertake. I'll always be trying to master the art of the craft and that excites me, to know that till the day I die I will always be challenged.
Since acting professionally you have been able to act in shows such as Quantico, Schitt's Creek, and The Strain. What have you learned from those experiences?
The biggest thing I've learned is that behind all the smoke and mirrors of the entertainment industry, it's just regular insecure people doing their best to make art. You get to see the everyday, ordinary humanity of people that we otherwise idolize. It's a very humbling experience being on set with celebrities. On Quantico for example, the entire main cast would play a video game together on their phones while on break between shots. I was like okayyy, I can chill out and just be me. Now, the other thing I've learned is that you don't want to be that person who's not prepared. Do your homework. It's hard to be at ease if you feel like you haven't put in your time. Prepare as far in advance as possible and then when you show up on set, you can relax and everything will look easy and natural. And by far the best advice for being on big sets, behave yourself. Sets are like large families; people gossip and you definitely don't want to be the talk of the town for the wrong reasons because you'll most likely be working with those same people down the road on different projects… or not. Behave!!
What drew you to Love in Harmony Valley?
Right away when I read the script, I understood my character Will Jackson. There were just enough similarities that I knew I could bring some truth to this role but just enough differences that I knew I would be challenged creatively, that to me is the perfect combination for a great film. I had previously worked with this film company on two other films as well so I felt like part of the family already and there was a certain shorthand we all had with one another. That's important to me too, to feel safe, trusted and comfortable enough on set to take risks in front of the camera. When I found out I booked the role I still hadn't been given access to the full script and I still didn't know who my co-stars were going to be so there are always unknown variables going into a new project but I was really happy with the way things worked out. It was a great team we had!
Are there similarities between you and your character Will?
Absolutely there are. The biggest connection between us is we both come from small towns. There's a certain innate naivety and friendliness to townsfolk. Everyone knows everyone, everyone says hi, and people don't lock their doors at night. It's an odd combination. My character Will left home to pursue bigger dreams in Silicon Valley and I did the same to pursue my dreams in Toronto. So this combination alone I understand deeply. There's always a longing for that original simple way of living but whenever you return home the desire to achieve big things begins burning within you again and this is exactly what Will is dealing with throughout the film. He quits his job in Silicon Valley to return home and take care of his sister but in the meantime that fire is burning within and so he takes it upon himself to reopen the town's winery and also create an entire town revitalization project. I understand this type of behavior so for me this was my way into the character.
What can viewers expect from Love in Harmony Valley?
It's a feel-good kind of film that the whole family can sit down to watch. And because Heartland actress Amber Marshall is in it, you know there are going to be scenes with animals… my favorite to film, so unpredictable (a pony, goats, rabbits and cats in one room together=chaos). Most of all, this is a film about forgiveness and being there for one another when times get tough, something we can all use a little more of these days.
What advice do you have for aspiring actors?
Well I had this question asked of me a million times so I actually put together a 45 minute video on youtube where I explain my journey and what it takes to become a full time working actor here. But the basics of it are… patience and persistence, this career takes a longggg time to make work, be ready for struggle and rejection, it's inevitable. Just keep training, practicing your craft and try not to get caught up in the party scene. Utilize your time wisely, work as little side jobs as possible (just enough to get by) so you have more time to work on yourself. Invest in yourself for the long run, it will pay off, you just have to believe in yourself because there will be many doubters along the way. And even though it may feel like you're going backwards or not getting better, the truth is, every failure is growth. We learn from failing. And the growth we experience can feel so minute day by day that we don't notice the changes but I promise you they are happening. Decades down the road you'll look back and be able to see the progress clearly but it's hard to notice when you're living it. Just be patient with yourself and remember to enjoy the journey because that is all it will ever be, right now, right this moment. Enjoy the moments!