Interview by Carol Wright | Photos Courtesy of Searcy
Walking into most stores, shoppers will be able to quickly locate shoes, pants, shirts and other clothing items that would work for them, but for those living with a disability or medical condition shopping for common clothing and accessory items can be similar to searching for a needle in a haystack. Alexandra Herold was aware of this issue and that led her to create Patti + Ricky. An ecommerce site specializing in adaptive, inclusive clothing and accessories. We got to chat with her about pursuing a career in fashion and creating Patti + Ricky.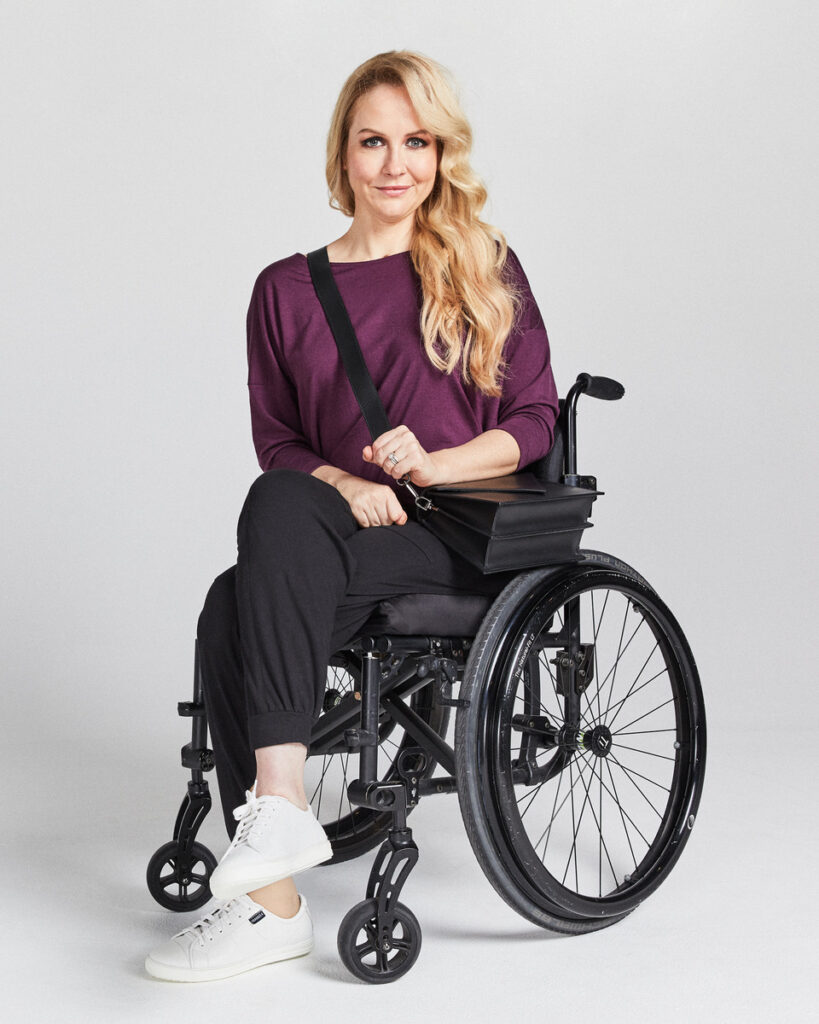 Growing up did you always see yourself working in clothing in some form in the future?
Although I have always loved fashion personally, I always thought I would be involved in disability rights in some capacity professionally. After undergrad, I was searching for a way to be an ally in the disability community. I first worked for a non-profit that helped provide mentorship to students with learning disabilities. I wanted to expand my understanding of disability from an academic perspective, and attend Columbia University, Teacher College but they did not have the program I wanted, so I created my own masters track and called it Disability Studies.
Both of my parents were entrepreneurs, and both worked in the New York City fashion industry. Discussions in my house growing up often consisted of things like what was going to be the next "it" color for fall or what would be the next big trend. So, I guess retail, and the fashion industry, were just always in my blood.
Tell us a bit about Patti + Ricky. What inspired you to create it?
Shopping does not typically include or embrace differences and individuals with disabilities. PattiandRicky.com is the Adaptive Fashion Marketplace for adults and kids with disabilities, chronic conditions, patients, seniors, and caregivers. Growing up with dyslexia, ADHD, and anxiety, my mom, Patti, was always my advocate and everything. When I was nineteen, our roles changed, I became her advocate and her caregiver.
After my mom, Patti, was diagnosed with a brain tumor, and she needed a cane to help her walk. A fashionable and fun woman, she of course wanted a leopard printed cane! The choices in medical supply stores were clinical and boring, but I eventually found her a pretty pink cane with roses. The cane meant a lot to my mom, not only because it was her vehicle, but also a stylish talking piece that made her feel beautiful. Through her I learned that fashion has the power to support individualized needs, while giving people the opportunity to express themselves and feel great. My cousin Ricky was unable to walk or verbally communicate, yet he showed me that communicating through our eyes and facial expressions can be just as effective. Ricky's wheelchair was also his vehicle to get where he wanted to go, and a fashion accessory. Together, Patti and Ricky formed the inclusive lens through which I see the world. Our mission is to continue to spread the love, understanding, and acceptance that Patti + Ricky passed on throughout their lifetimes.
I realized that the power of fashion did not just apply to Patti's pink floral cane or Ricky's cool wheelchair accessories. Fashion is universal – and should be! So, through intensive market research, I realized there were numerous designers out there making stylish and functional products for individuals with disabilities. I wanted the products to all be in one place; a place that I could showcase the functional and fashionable products, as well as the incredible designers.
As we contacted designers to learn about their products, I learned that most of the designers had disabilities themselves or are inspired by a loved one with a disability. Almost all products on PattiandRicky.com were originally created to serve a need for themselves or their loved ones. I feel so lucky to be working with over 100 Adaptive Fashion designers with inspiring stories and life-changing products.
You will be hosting an FB live discussion with Judy Heumann to discuss the adaptive fashion industry. With the world slowly becoming more progressive have you seen a lot of major changes in the clothing industry in recent years?
A quick note about Judy Heumann: I am so honored to be able to have some time with Judy and be able to share that experience live with others on our Patti and Ricky Facebook Page on Monday, December 7th at 3:30 pm EST/ 12:30 pm PST. Judy's entire life and career have been devoted to creating a more equal society for individuals with disabilities. She has repeatedly stood up for herself and all people with disabilities and always advocated for equal access in many areas of society. I am individual with multiple disabilities, and I will forever be grateful for all Judy has done to create access, equity, diversity, and inclusion for me, so many people I love, and all people with disabilities. I also feel so lucky to be able to learn from her.
I would say there have been many positive changes in the mainstream clothing industry in recent years, but we still have a long way to go and a lot of work to do. We are absolutely moving in the right direction. The Adaptive Fashion designers I work with are leading that charge, looking at fashion through a lens of functionality for all, while not sacrificing style with their work. I feel that the Adaptive Fashion industry will be a market similar to the maternity or plus size market in the near future as consumers are understanding more and more how inclusive design benefits everyone.
You will also be showcasing Patti + Ricky items, is there one item you're particularly proud to have in your shop?
There is no way I could pick a favorite. We are so lucky to have 100 Adaptive Fashion designers with over 4,000 SKUs on PattiandRicky.com. However, every day I do wear my beautiful Fidget Jewelry. Our Fidget Jewelry has "discreet" sliding bead aimed at those with ADHD and anxiety, who need a beautiful and socially acceptable way to fidget; the beauty of the jewelry becomes the focus of attention rather than the fidgeting behavior. I find that my Tula Bar fidget necklace and fidget rings really helps me to focus and feel calm, while also feeling stylish. Our Fidget Jewelry collection is available at PattiandRicky.com/fidget-jewelry.
What would you say the main thing is that clothing creators have to do to make their clothing inclusive for all?
The main thing that clothing creators have to do to make Adaptive Fashion, is to ensure that people with disabilities not only need to have a voice at the table, they need to be actively involved in the entire design process. At Patti and Ricky, the experts are people with disabilities. Make sure to ask lots of questions to find out people's needs. It is also important to include caregivers, parents with children with disabilities, and medical professionals, such as occupational therapists in the design progress. Fashion has the power to help with more than self-esteem or self-expression, Adaptive Fashion for people with disabilities is a vehicle for conversation and connection. In addition, when fashion is combined with functionality it supports feel-good independent living.